.
Greater Boston Food Bank Donation
NEPC Dinner Meeting Hosted
at the Greater Boston Food Bank
and Sponsored by Dole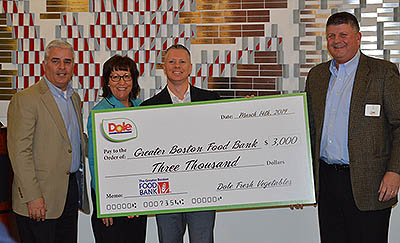 (l-r) Rob Russo (Dole), Cheryl Schondek (Greater Boston Food Bank), Anthony Sattler (NEPC/C&S Wholesale Grocers, Inc.) and Chris Hill (Dole)
Burlington, MA (March 15, 2019) – New England Produce Council, Inc. (NEPC) held a dinner meeting at the Greater Boston Food Bank on Thurs. March 14th. The event was sponsored by long-time NEPC sponsor, Dole. The day began with a volunteer group of NEPC members sorting and packing healthy food items for member agencies in eastern Massachusetts followed by Anthony Sattler, SVP of C& S Wholesale and NEPC President, welcoming the group and sharing exciting NEPC updates for this year including the 20th year anniversary celebration of the NEPC Produce, Floral & Food Service Expo set for Sept. 19th. "NEPC is committed to supporting hunger relief efforts" stated, Anthony Sattler. The dinner meeting continued with a great presentation by Chris Hill, Senior Director Sales, Northeast & Canada Dole Fresh Vegetables. The evening concluded with a delicious dinner and a lot of socializing. This event was attended by many retailers, vendors and foodservice representatives.
The highlight of the evening was the presentation by Chris Hill on behalf of Dole and the New England Produce Council, Inc. of a $3,000.00 donation to the Greater Boston Food Bank. Cheryl Schondek, Senior Vice President, was on hand to graciously receive this donation. Cheryl spoke about food insecurity and thanked the Dole, NEPC and entire Produce Organization for their support of the mission to end hunger. "The data is alarming- 1 in 10 residents in eastern Massachusetts is food insecure, they don't know where their next meal is coming from. 1 in 8 is a child. With your ongoing support, we can change that staggering statistic. Last year GBFB distributed over 62 million pounds of healthy food to 530-member agencies in 190 cities and towns. Over 35% is fresh produce. We can't do that without this organization."
The New England Produce Council, Inc. and Dole have been partnering for over 5 years hosting this dinner event at the Greater Boston Food Bank. Over the last 5 years, NEPC and Dole have donated close to $30k in donations in addition to volunteer groups working at the GBFB. "We look forward to this special meeting every year and we hope to continue our partnership with Dole and the Greater Boston Food Bank", states Laura Sullivan, NEPC Executive Director.
(l-r Front Row) Laura Sulllivan (NEPC), Bonnie Lundblad (Sunny Valley International), Bob VonRohr (Sunny Valley International), Rob Russo (Dole)
(l-r Back Row) Alden Guptill (DiSilva Fruit), Scott Maher (Roche Bros.), Tom Murray (Roche Bros.), Marc Bonneau (Hannaford), Greg Kosofsky (Always Fresh) and Janice Stallone (Decas Farms)
.
Click on any photo to begin slideshow. Right-Click photo to save or print.